02 novembre 2006
WCB #74
Ce week end, c'est chez moi!
Hello Catlovers!
Bonjour les Amoureux des chats!
I am pleased to host WCB live from the French Riviera'sun! And to welcome you, a nice picture of my city...
Je suis ravie d'accueillir le WCB en direct du Sud de la France, je vous souhaite la bienvenue, en photo...(Les chats français sont aussi les bienvenus, vous avez tout le week end pour m'envoyer votre lien!)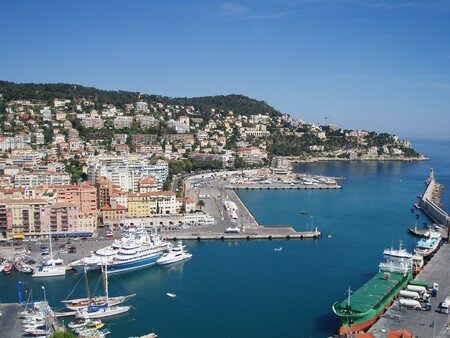 I wanted to put a video of one of my kitties, but I didn't arrive to put it... I present also Prince, the cat of my mother-in-law...
Je voulais mettre une vidéo d'un de mes chats mais j'y suis pas arrivé... Alors voilà Prince, le chat de ma belle- belle- mère...
He is a very big and old cat, always in anger!So that I prefer not to stay near of him, he i not bad, but not used to have company!
C'est un vieux gros chat, toujours maluné!Je ne reste pas près d elui, il n'est pas méchant mais peu habitué à la compagnie!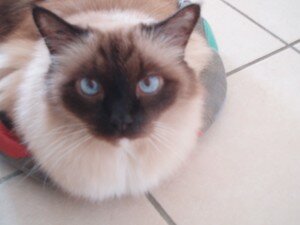 Ok! I go!
Ok, j'y vais!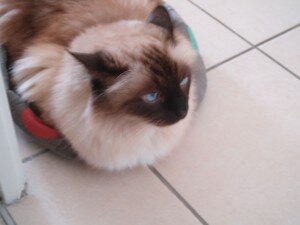 Don't forget to check out (sorry for my english...):
- Jelly Pizza, where mornings are so cold!! Brrr!
- Bonnie loves cats, where kitties are waiting your vote and adoption!
- By Ostara, you'll see a very smart Sam, composing for "NaNoWriMo"!
- Chris, where The Last Tribble, so cute, is training so hard deserve resting too!
- Sergei and Sasha become taoists by Music and Cats!
- By The Hidden Paw, Boots and Tess present us art!
- By Missyblueeyes,the little KC is totally crazy!
- By Kate, Harmon and Bustopher are starting to enjoy "the simpler things in life"!
- Luna is keeping company to Amar, how sweet she is!
- Little Don Gato is playing with a rubber band guitar,by Yakuza, so cut!
- Poor Upsie, having a foot massage, by What did you eat!
- Ywette, the Old Lady Cat having a royal "pose", by Anne's food!
- By KitchenMage, the beautiful Grayling still loves boxes!
- Phoebe is ready to the long winter, by Lisa!
- Another box: Mimi and Grover Jay are enjoying it by Lisathewaitress!
- By Westeringhills, it is time for sleeping!
- Go to Rosa and see Marushka, the "Devil Kitty"!!
- Boo and her kitties are back, check the nice ginger fella!
- Listen to Tiggy the Tiny tigger's scary story!
- By Burekaboy, the kitten are addicted to diet pepsi!!
- Kamikaze spends more time in bed because of the coldest nights, by Jelly!
- Pia's first participation with the lovely Siri!
- A very little kitten, disappointed with his food... By Real Epicurian!!



You can leave your link on "commentaires" just down!
Next WCB's hosts:
November 11- Skeezix at Skeezix the Cat
November 18- Amar at Catsynth.
November 25- Robyn and Sanjee at Hot(m)Bc
December 2 – D at The Hidden Paw
December 9 – Miz D and the Angry Cat at Belly timber
December 16- Kitchen Mage
December 23-back here at chefsarahjane
December 30- Lisa at Champaign Taste
Thithi, If you read this, please correct my english!!
Commentaires
Poster un commentaire